Rural Nevada pushes for pot farms
Jay owns his own consulting firm here in Las Vegas, Nevada called LeadNet, LLC. which specializes in cannabis consulting and compliance, mergers and acquisitions, licensing and critical management, government and public affairs. Through LeadNet Jay and his staff negotiate retainer agreements with businesses to represent them as a liaison on state and local municipal issues including working with City Council, County Commissioners and staff in compliance, applying for special use permits, restricted licenses, privilege licenses, zoning, fast-tracking, ordinances and many other government processes and procedures.​ Jay speaks to Channel 8 Eyewitness News about the benefits of bringing a cultivation facility to a small township in rural Nevada. Read about it below:
https://www.8newsnow.com/news/local-news/rural-nevada-pushes-for-pot-farms/
Jay Shares the Benefits and Struggles of Local Cultivation Facilities
Clark County Commission picks 12 to serve on marijuana panel
Jay Matos is one of Nevada's best known and longest-serving cannabis business consultants. Jay is a founding member of the prestigious Clark County Green Ribbon Advisory Panel also known as "GRAP" a government-appointed cannabis board that consist of some of Las Vegas most influential business leaders like Dr. Tony Alamo, chairman of the Nevada Gaming Control Commission; Virginia Valentine, president of the Nevada Resort Association; Andy Abboud, Las Vegas Sands Vice President of Government Relations just to name a few. Read about it below:
https://www.reviewjournal.com/news/politics-and-government/clark-county/clark-county-commission-picks-12-to-serve-on-marijuana-panel/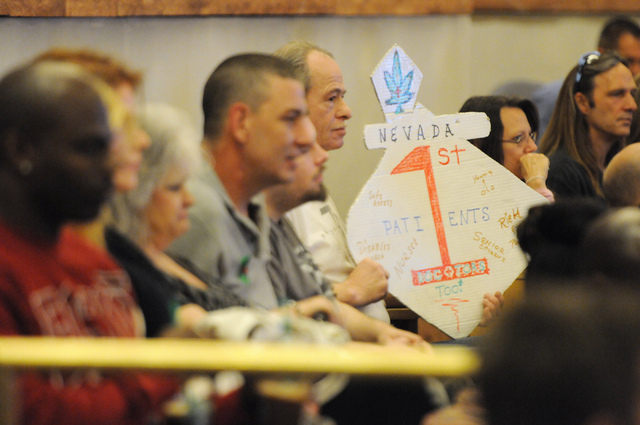 Town hall meeting tackles medical marijuana issue
Jay hosted a second trip to Arizona Organix with the Nevada Division of Public and Behavior Health Director and staff along with the Clark County Business License Director, staff and Metropolitan Police Narcotics Representatives. A third trip was hosted by Mr. Matos for local municipalities; in attendance were City of Las Vegas Representatives, Clark County Representatives and City of Henderson Representatives. In Nevada Jay also provided an "In-Service Training" for Clark County Staff from Business Licensing, Planning, Zoning, Fire Chief, Metro and Liaisons to many of the County Commissioners.​Jay was instrumental in leading Clark County and Commissioner Lawrence Weekly, during a noteworthy Town Hall Meeting, held March 12, 2014, in which Jay delivered a presentation on medical marijuana representing the County. He facilitated key information where Jay's expertise was essential in educating the community and addressing their questions and concerns. The Las Vegas Review Journal covered this important event. Read about it below:
https://www.reviewjournal.com/news/town-hall-meeting-tackles-medical-marijuana-issue/
Nevada legislators hook up with Arizona drug dispensary
Jay hosted political fundraisers and campaign events in 2012 to build up support for SB374. Looking to form a group to help the push to reform Nevada's medical marijuana program, in March 2013 Jay visited the first dispensary opened in the state of Arizona, named Arizona Organix, with Nevada Judiciary Committee members Mark Hutchison, Scott Hammond and Ruben Kihuen; non-member David Parks and Assemblywoman Michele Fiore, R-Las Vegas, staff and Nevada media. In addition, Steve Yeager of the Clark County Public Defender's office was in attendance. Read about it below:
https://www.reviewjournal.com/news/politics-and-government/nevada/nevada-legislators-hook-up-with-arizona-drug-dispensary/
Jay Matos has spoken at several events in the past. Jay has spoken in front of Nevada's State and Municipal governing bodies educating them on the cannabis industry in 2012 -Jay presented and educated them on the cannabis industry as a whole as of 2012.
This included, how each facility type (Production, Cultivation, Laboratory and Dispensary) should be built and run properly.
How to minimize theft and maximize cleanliness in the various facility types.
Most importantly Jay trained the Nevada's leadership on how to make sure that patient safety would be the industries number one priority. Jay Matos is known for his ability to orate to rural and urban town boards/members opening them up to the emerging cannabis market - Jay has spoken with several local Municipal entities educating them on how cannabis can be beneficial to a local small town's economy. He has convinced several municipal leaders and local residents by throwing local town hall meetings educating everyone on the process and safety measures put in place to protect local communities. Jay spoke on how bringing in a cannabis facility could not only be a boon to the local economy but can also bring in a great corporate partner to the community.
Jay Matos presented in Chicago at the Cannaone, Illinois Cannabis Summit which was held October 14-16th, 2019 - How to hit a moving target! (Achieving Success in the ever changing Cannabis Market.) Who we (Cannabis) are as an industry? Where is the Industry going in the next few years? How will the Industry get there in reference to State, Local, and Federal Government? What major changes are coming down the pipe in reference to policies, procedures and compliance? Given all of these upcoming changes how can you navigate through these times effectively? Educating new and experienced businesses on the ever changing cannabis landscape and how to navigate the upcoming changes to federal cannabis rules and regulations.